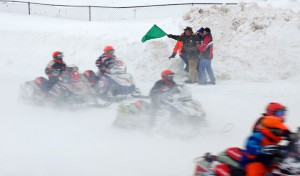 Join thousands of drivers, sled heads, and snowmobile enthusiasts for the professional racing excitement of the 52nd annual International 500 Snowmobile Race on Saturday, February 1, 2020! Known as the GRAND DADDY of snowmobile endurance racing, the I-500 is the world's longest, fastest, toughest, and most-exciting oval race event. Professional athletes from all over the U.S. and Canada ride the monster mile in hopes of winning this prestigious race, and adding their names to the history books of snowmobile racing.
Every year, the I-500's main event is always held on the first Saturday of every February starting promptly at 10:00a.m. However, all the excitement of the I-500 starts a week prior to the main event beginning on Sunday, January 26, 2020. The I-500 Snowmobile Race hosts time trails, mid-week racing events, and fun activities for the whole family throughout Michigan's oldest and most beautiful city, Sault Ste. Marie!
MI DAV: Official Starter
For the past 51 years, the I-500 Board of Directors selects a dignitary to actually be on the track to drop the 
infamous "GREEN FLAG" which officially starts the race. This is an honor only a select few get to experience and with each year that passes, the honor and privilege builds each and every race! With thousands of spectators attending each year, it has become obvious to the I-500 Board of Directors, that we have a means to offer our debt of gratitude to those who put their lives on the line for our country and our freedom. Therefore, it is with much mutual respect and admiration for our men and women of the U.S. Armed Forces, that we honor the presence of ALL D.A.V. at our world class International professional racing event. We do this by requesting a D.A.V. Member to be our guest of honor as the "Official Starter of the I-500."
Vintage Snowmobile Show: Check out classic blasts from races past at the I-500's 18th Annual Top of the Lake Snowmobile Museum Vintage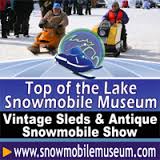 Snowmobile Show! These mechanical marvels are presented and managed by the Top of the Lakes Snowmobile Museum of Naubinway, MI, and open for viewing to the public! Get an up close and personal glimpse at how the legends of snow sports used to ride starting February 1, 2020.