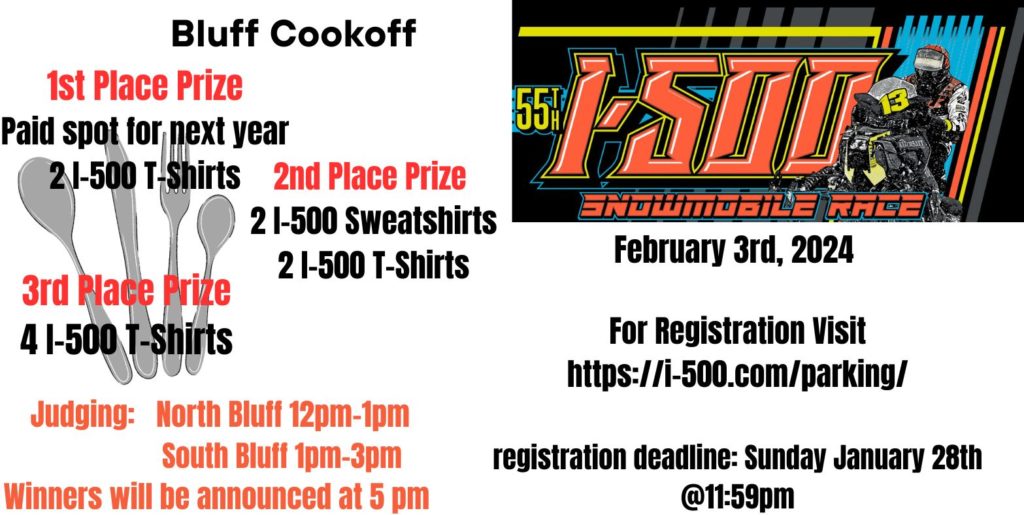 Bluff Cookoff Registration >>>>>> Click Here <<<<<<<<<
Parking / Camper Request Form: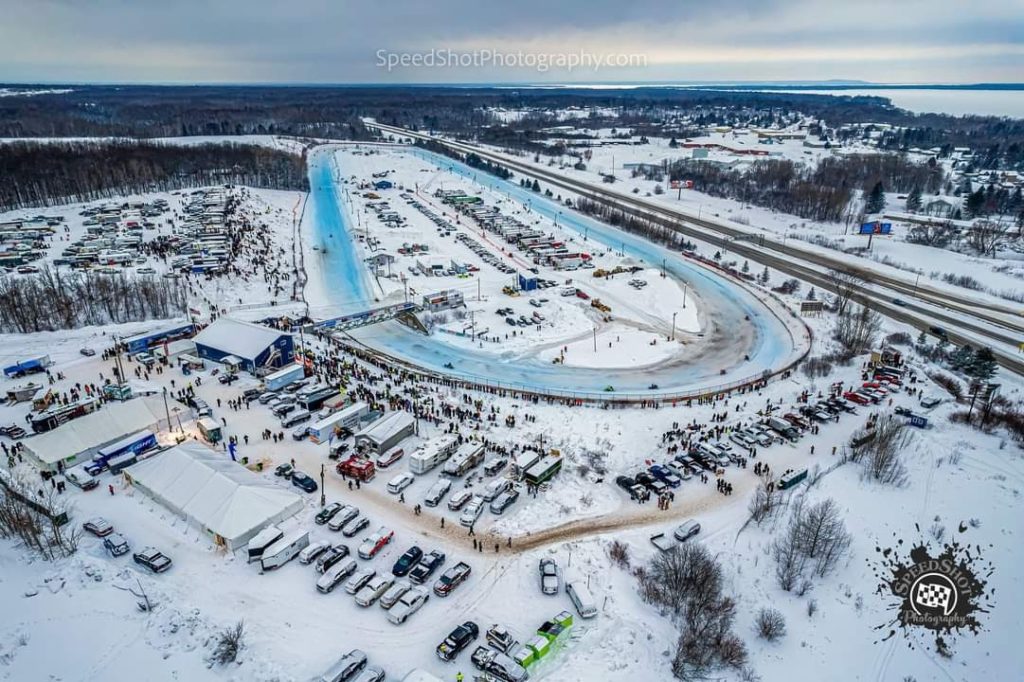 Monday-Friday, January 28th-February 2nd, 2024; $5.00 per day or $20.00 for the week

Saturday, February 3rd, 2024 (Race Day); $10.00 • With Trailer; $20.00
Be sure and download the Parking / Camper Request Form if you plan to bring anything bigger than your car to sleep in!
For more information about Parking / Camper Registration, contact: Bill Atkins at (906) 440-0013. All spaces along both bluffs require submitting a >>>>>>> Camper Request Form <<<<<<<


Facility Policies:
On behalf of the International 500 Snowmobile Endurance Race Board of Directors the following new policies are in effect!
Please take note of these new policies and rules.
Temporary Shelters Policy
The international 500 Snowmobile Endurance Race defines a Temporary Shelter as any Temporary Structure, Tent, or Umbrella Structure that is not permanently affixed to the ground via a concrete or block foundation. This includes Tents, Temporary wooden structures, Hunting blinds and all other temporary structures.
Temporary Shelters may not be placed in any spectator viewing areas including the Spectator area near the bridge, the North Bluff or the Camping Bluff
Without the expressed written consent of the International 500 Snowmobile Endurance Race board of directors.
Campfires Policy
Campfires are only permitted on the Camper Bluff and must be contained within a standard 2' x 3' fire ring or steel barrel. Fires must be within the individual campsite. No other fires are permitted.
Pets
Pets and Animals are Not Permitted on the I-500 Grounds.
Motorized Vehicles
ATV's, UTV's, Side by Sides and Snowmobiles are to be parked in the general parking lot unless a special permit is obtained.
Fireworks are not permitted
Drones are not permitted

Questions of these policies may be directed to I-500 Security Director, Wes Jourden at: vicera@gmail.com