The Great Lakes Antique Snowmobile Series (G.L.A.S.S.) portion of Opening Day / Bud Clarke Day of the 52nd annual International 500 Snowmobile Race would see Kyle VanSloten (440 Fan Super Stocks) and Dustin Fierek (340 Fan Super Stocks) take home the prestigious #SooI500 Feature Wins.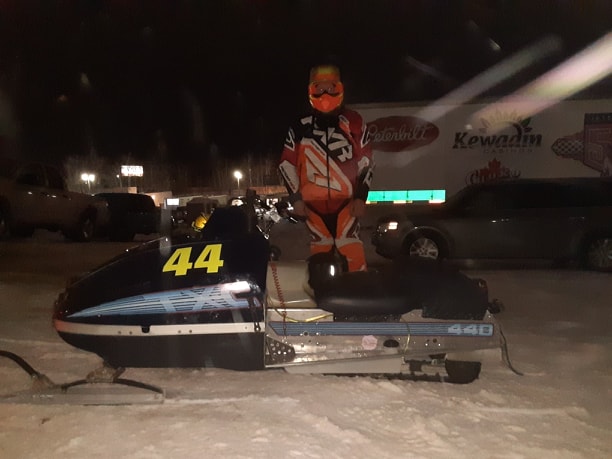 For VanSloten, the 34-year-old from Rudyard, MI on his #44 TheSignGirl.com / Polaris Snowmobiles machine won his second Brad Redman Memorial in a row. Earlier in the day, VanSloten was the Fast Qualifier with a lap measured at a 50.574 = 71.183mph.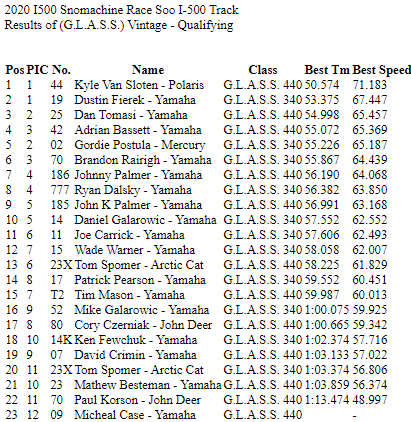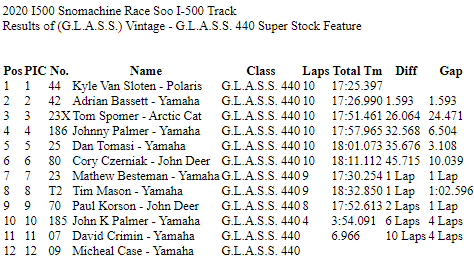 As for Fierek, the 34-year-old from Hessel, MI on his #19 Tassier Boat Works / Yamaha Snowmobiles entry went to victory lane joining his son, Carson Fierek who won earlier in the week in the Mini-5 Snowmobile Races. Fierek swept the program by also winning the Fast Qualifier Award with a 53.375 = 67.447mph.